InnerSoul Sound Chair ™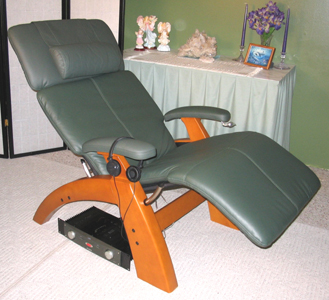 Stressed?
Long Work Days?
Hectic Lifestyle?
Enhance Your Quality of Life
by simply sitting in your InnerSoul Sound Chair ™ for 20 minutes per day.
"The Stress Buster"
Classic furniture style with solid wood and leather construction
that fits into any office or home environment.
New Advanced Technology Transducers offer the most
sophisticated whole body Sound Vibration delivery system for
reducing stress, alleviating physical pain and creating a
space for deep meditation.

The Zero-Gravity chair is custom fitted with Advanced
Technology Transducers for whole body vibration and full
spectrum sound to create a blissful experience.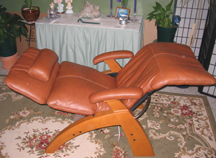 This sound chair has soft, comfortable foam filled leather
pads with a manual reclining feature for easy gliding of
your body into the Zero-Gravity position, at the touch of
your fingers. Memory Foam is standard.
Connects to your CD or MP3 Player or computer.
Standard in Black, Espresso or Ivory Leather.
Premium Black or Cognac Leather available.
Wood Base: Chestnut or Walnut.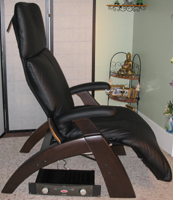 The Advanced Technology Transducers deliver the
vibration so cleanly that the brain interprets the stimulus
as Sound, not Shaking and are the heart of the
InnerSoul Sound Chairs.

The excellent sound quality and wholel body vibration
makes the InnerSoul Sound Chair a wonderful delivery
system for Vibroacoustic Music and Vibroacoustic
Therapy (VAT). The Sound Chair works extremely well
for whole body vibrational treatments such as VAHT
(Vibroacoustic Harp Therapy) and Sound Therapy.
Inner Soul Chair for Massage
InnerSoul Sound Chairs are excellent for reflexology or
head massage as well as a wonderful addition for
your waiting room. Your clients relax in total comfort
as their tissue softens and nervous system calms down
before bodywork begins.
The position and quality of the Transducers provide a
soothing and beneficial massage as the sound gently
permeates the cells, allowing for a massage from inside
as well as out.
Whether using frequencies for therapeutic treatment
or music for relaxation, the chair can be positioned to
provide you with the relief and benefits of a spa-like
massage.
Benefits such as: increased circulation, lowered blood
pressure and reduced pain can be attained while sitting
comfortably in your own home listening and enjoying
soothing music. You'll feel better in 20 minutes.
For more information
see our old website:
VibroAcoustic.org
or our new site at:
InnerSoulutions.com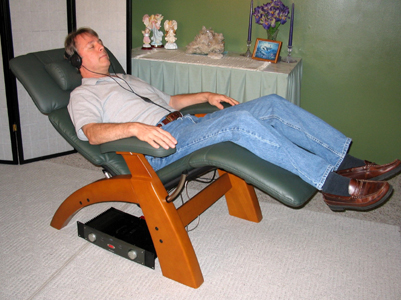 If you have questions before or after you receive your InnerSoul Sound Chair, please call. As an expert in the field of vibroacoustics, one aspect that sets us apart from others in this field is I will discuss your questions with you before and after your purchase.
Call me at 716 524 2349

- Stephen Deuel, Internationally recognized Vibroacoustic Specialist, innovator of the InnerSoul Sound Chair, Managing Director of Inner Soulutions LLC

InnerSoulutions.com
For ordering info, click here
Please contact us for current shipping rates outside the US.

What are Transducers?
Transducers are similar to speakers. Speakers are built to create sound waves
in the air. Transducers are built to take the same sound input as speakers but
their focus is to create physical vibration which is transferred directly to the sound
furniture or sound chair. One advantage of the direct transfer is that the volume
level does not have to be very high in a transducer to be felt, especially with the
high quality transducers that we use.
The sound levels in speakers have to be quite high in order to be felt, since they
travel through the air. We find it much easier to relax if the sound levels are at a
relaxing level. Of course, if you want your sound chair to rock - that can be easily
accomplished as well.
What is Vibroacoustics?
Vibroacoustics is a technology that translates the sound you can hear into sound
you can feel. This is achieved through transducers or vibration speakers that are
incorporated into tables, chairs, mats, pillows or other furniture. All Vibroacoustic
products produce an effect in the physical body, as the soothing vibration can
permeate the body to a deep cellular level. The type of music or frequencies
played through transducers directs the effects a person feels.
Studies show that using Vibroacoustic Technology in Sound furniture can
assist the body to: Relax and De-stress, Increase Circulation, Lower Blood Pressure
and Elevate Moods. The quality of transducer reflects the value of physical and
emotional experience a person has.
Achieve a Deep State of Relaxation,
Soothing Your Body, Mind and Spirit
leaving you feeling Relaxed and Rejuvenated.
Daily stress makes our cells acidic, and we tend not to fill
the cells up to an optimal oxygen level. These traces of
stress are stored as waste products in cells and blood
vessels which may, in time, lead to serious consequences
for our health. Low frequency sound vibrations through
VAT (Vibroacoustic Therapy) may contribute to clean the
cells, increase oxygenation and reduce acidation.

Benefits of Vibroacoustics
Deepens Relaxation
Increases Circulation
Increase Oxygenation
Decrease Acidation
Reduces Stress and Anxiety
Effective for Pain Management
Heightens Meditation Levels
Enhances Sound/Music Therapy
Compliments Physical Therapies
Stimulates Creativity & Learning
Effective with Self Help or Mind-Body Tapes & CDs
© Inner Soulutions LLC, 2013
Lewiston, NY, USA
Feedback
"My sound chair is exceptionally great. The quality of transducers as well as the accompanying amplifier is truly great. I especially appreciate the workmanship that flowed out of you and Deborah. The transducers placement - the way it is so well hidden one can hardly tell where they are housed. It truly completes the vibrational transmission to the whole body very effective.
As for me, I use the chair mainly as a totally relaxed session of meditation. I put the chair in Zero gravity, and meditate in that posture for anywhere from 1 hr to 2 hrs. The posture and the quality of music that plays through the chair is so very effective in taking me to an altered state of consciouness which would otherwise be very difficult to acheive. I seem to be able to achieve that state much easier thanks to the chair. The quality of sound carried to the body, via the 2 channels is very pristine and totally relaxing.
I have had some of my friends who have difficulty falling asleep so relaxed that they simply drop into a relaxed sleep within the first 4 minutes and then 20 mts later when the VAT music ends they come awake and are totally flabbergasted that they fell into such a relaxed and quick nap mood. They simply adore the chair.
Thank you so much for the beautiful and professional quality with which you both have put this Sound chair together. More than the technology, the personal interest and care and concern that you both put to it makes the chair stand apart from all the brand names in the market. Both from a price and quality standpoint, this chair far outshines the foremost brand names. Believe me, I am some one who has researched sound chairs for 4 yrs and I am not saying it without a sound reason. To put it very simply, It really is a piece of Art.
Thanks you both so much. I am very grateful for the love, attention and care that went into it's making."
Sundari A., TX
---------------------------------------
"Just thought I would drop you a line to let you know I received the sound chair. I have got it all set up and going – loving it ! Thanks so much for all your help. The delivery company was great."
Julia, Australia
For ordering info, click here